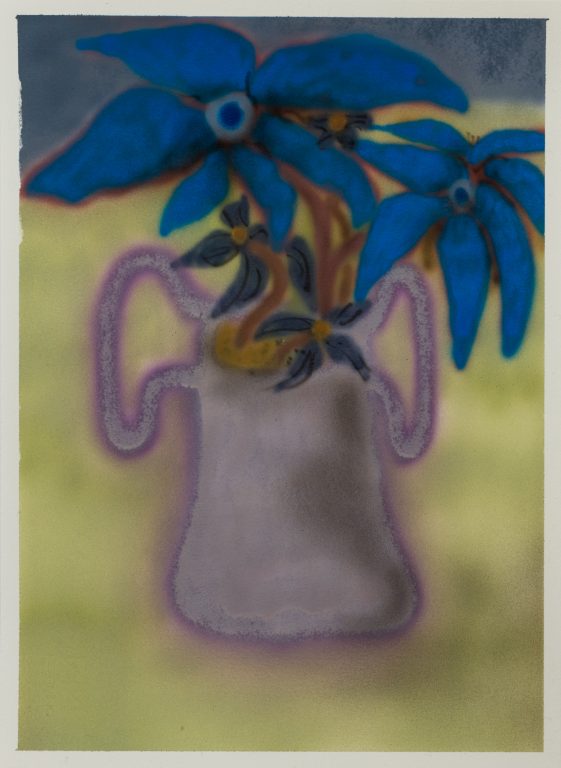 a take on paper
18.01. –  24.02.2019 
Groupshow, KANT Gallery, Copenhagen (DK)
Opening: 18.01.2019 – 17 hrs
KANT Gallery | St Kongensgade 3 (Baghuset) | 1264 Copenhagen, Denmark
---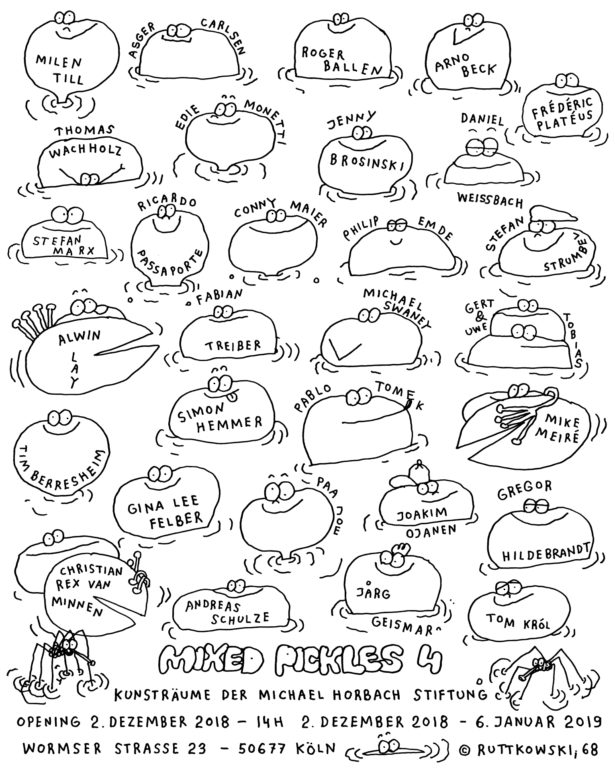 MIXED PICKLES 4
2. December  – 06. Januar 2019
Groupshow at Michael Horbach Stiftung, Cologne (DE)
Opening: 2. December – 14 hrs
Ruttkowski;68 is pleased to invite you to the fourth edition of its ongoing group show program Mixed Pickles, comprising works of 30 artists from the fields of sculpture, installation, video art, painting and illustration. Hosted in the gallery's hometown of Cologne, the exhibition follows its truly non-hierarchical approach towards contemporary art and adjacent fields.
Included in the exhibition are paintings by Andreas Schulze, Gert & Uwe Tobias, Conny Maier, Edie Monetti and Daniel Weissbach, among others. Further artworks include a photograph by Asger Carlsen and Roger Ballen, sculptures by Frédéric Platéus, Joakim Ojanen and Gregor Hildebrandt and a coffin by Paa Joe. 
The light-flooded exhibition space of Michael Horbach Stiftung, located in a former art gallery in the Southern Quarter of Cologne, provides room for an open dialogue between the broad range of works and artists, uniting various cultural backgrounds and artistic practices.
Michael Horbach Stiftung| Wormser Str. 23 | 50677 Cologne, Germany
---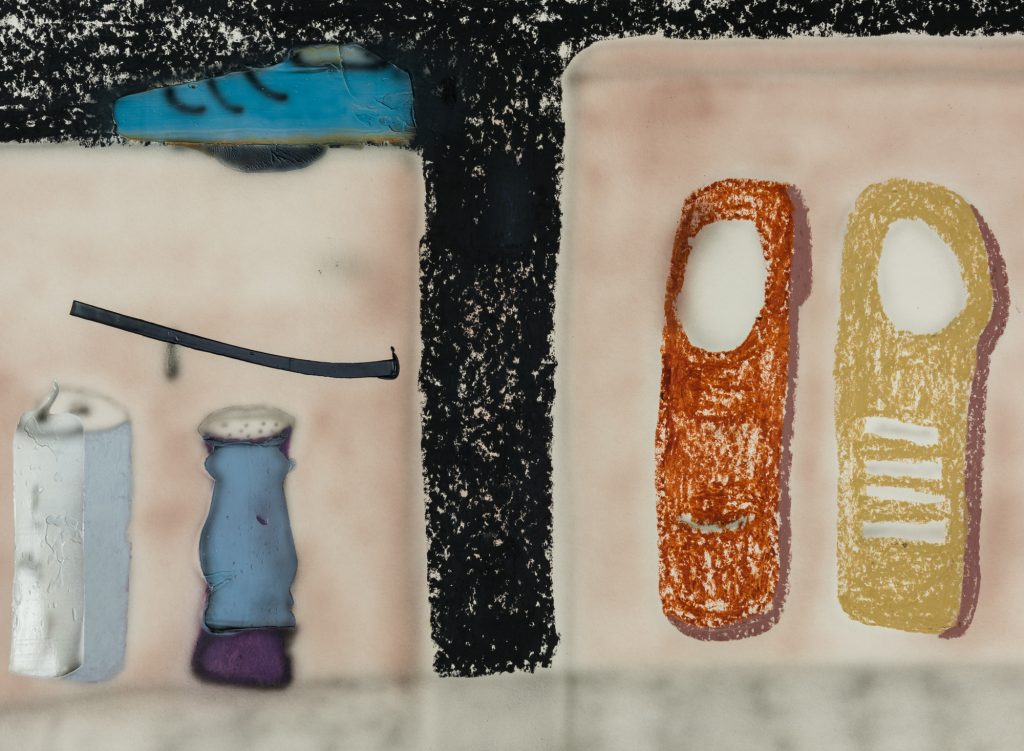 Works on Paper
24. November 2018 –  12. January 2019
Groupshow at BEERS Gallery, London (UK)
Opening: 23. November 2018 – 18 – 20 hrs
After last year's (second annual) paper show, in which more than 50 artists were invited to present works on paper, the premise for this year's exhibition is significantly scaled back: 17 artists were invited to submit a single work on paper. Further, the brief was relatively simple: artists were allowed to do whatever they wanted, provided that this was completed on the standard paper size of 76x55cm. The resulting works span a spectrum of media, subject matter, and styles. 
A few artists, such as Miles Debas, Holly Mills, and Antonia Showering, have previously shown in the paper show; the majority of artists will be making their debut both in the paper show and at the gallery, including Chris Bogia, Christian Clayton, Sainer Etam, Caroline Larsen, Antone Könst, Eleanor Swordy, Fabian Treiber, and Sara Anstis. Beers welcomes  Robert Fry (who previously showed with the gallery in 2013), and Matthew John Atkinson, who will both be presenting solo exhibitions with the gallery in 2019; and Gord Bond, who will be taking part in the gallery's presentation for Zona Maco Art Fair. 
BEERS Gallery| 1st Baldwin Street | EC1V 9NU London, United Kingdom
---
Upcoming: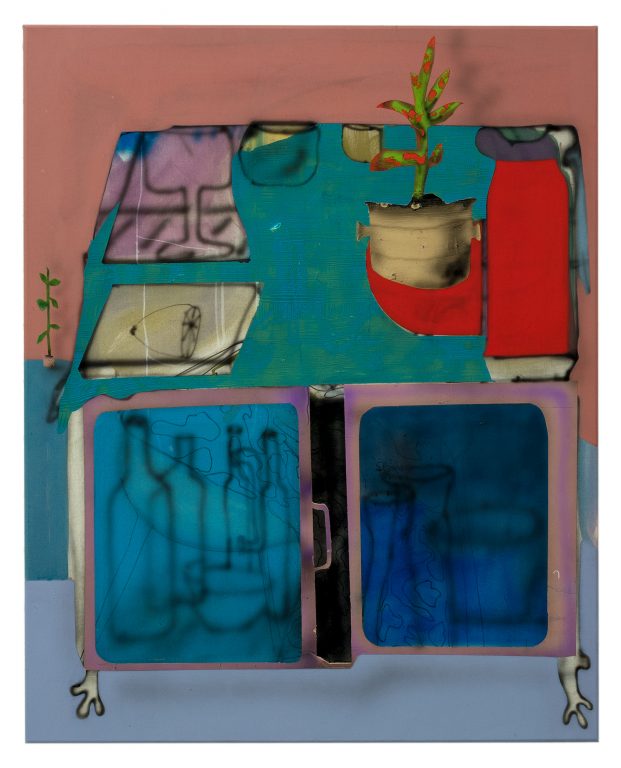 a minibar in a large scale room
13. February – 7. April 2019 
Soloshow, Kunsthaus Nürnberg (DE)
Opening: 13. February – 19 hrs
Das Kunsthaus Nürnberg präsentiert  in einer Einzelausstellung Werke von Fabian Treiber, dem aktuellen Marianne-Defet-Malerei-Stipendiaten. Die Bilder des 1986 geborenen Künstlers, der Malerei an der Staatliche Akademie der Bildenden Künste Stuttgart studiert hat, bewegen sich zwischen Figuration und Abstraktion, zwischen Benennbarkeit und Rätselhaftigkeit. Zwar suggerieren die gesprühten und gemalten Farbflächen vielfach Gegenständliches – ein Tisch oder Stuhl, ein Blumenbouquet, Schuhe oder ein Kerzenständer, – jedoch widersteht Fabian Treiber dem Drang zur Vervollständigung. Ihm gelingt die schwierige Balance, abstrakte und gegenständliche Bildelemente so zu vereinen, dass sie in der Schwebe der Uneindeutigkeit verbleiben.
https://www.facebook.com/kunsthaus.nuernberg
Kunsthaus Nürnberg | Königsstr 93 | 90402 Nürnberg, Germany
---
common things
07. March –  18. April 2019 
Soloshow, Salon Kunstverein Ludwigsburg (DE)
Opening: 07. March – 19 hrs
www.kunstverein-ludwigsburg.de
Kunstverein Ludwigsburg im MIK | Eberhardstr. 1| 71638 Ludwigsburg, Germany
---
Werke aus der grafischen Sammlung 
17. März –  29. April 2019 
Groupshow, Villa Merkel – Galerien der Stadt Esslingen (DE)
Opening: 17. March – 11 hrs
Villa Merkel – Galerien der Stadt Esslingen | Pulverwiesen 25 | 73726 Esslingen am Neckar, Germany
---
Kunsthalle Düsseldorf
04. September – 10. November 2019
Groupshow, Kunsthalle Düsseldorf (DE)
Opening: 04. September
Kunsthalle Düsseldorf | Grabbeplatz 4| 40213 Düsseldorf, Germany
---
Ruttkowski;68 Gallery
October 2019
Soloshow, Ruttkowski;68 Gallery, Cologne (main space), (DE)
Opening: October
Ruttkowski;68 Gallery | Lichstraße 8-24| 50825 Cologne, Germany