currently active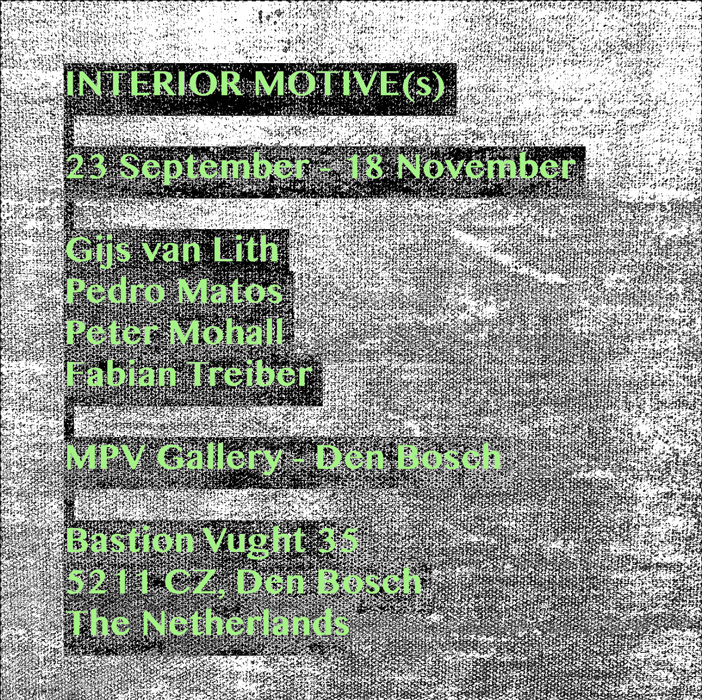 interior motive(s)
23. September – 18. November 2018
Groupshow at MPV Gallery, s'Hertogenbosch (NL)
Opening: 23. September – 15 hrs
Artists:
Gijs van Lith 
Peter Mohall
Piedro Matos
Fabian Treiber
MPV Gallery| Bastion Vught 35 | 5211 CZ-s'Hertogenbosch, Netherlands
---

8 RUE CHARLOT
13. October 2018 –  18. November 2018
Groupshow at Ruttkowski;68 Gallery, Paris (FR)
Opening: 13. October 2018 – 19 hrs
RUTTKOWSKI;68 IS PLEASED TO INVITE YOU TO THE OPENING OF ITS
EXHIBITION SPACE IN PARIS. THE GALLERY OPENS WITH A GROUP SHOW
BRINGING TOGETHER A BROAD RANGE OF WORKS BY ARTISTS FROM THE
GALLERY PROGRAM.
THE WORKS SHOWN POINT OUT THE GALLERY'S NON-HIERARCHICAL
APPROACH TOWARDS ALL DIFFERENT KIND OF ARTISTIC PRACTICES AND
BACKGROUNDS. TOUCHING UPON FASHION, MUSIC, AND URBAN
CULTURE, THE EXHIBITION AS WELL REFLECTS ON THE NEIGHBORHOOD
OF RUTTKOWSKI;68 IN PARIS – THE AREA OF MARAIS – WHICH IS HOME
TO ART GALLERIES, FASHION BOUTIQUES, AND CREATIVE BUSINESSES.
BY GIVING THE ARTISTS THE OPPORTUNITY OF PRESENTING THEIR
WORKS TO THE WELL EDUCATED AND ENTHUSIASTIC ART AUDIENCE IN THE
FRENCH CAPITAL, RUTTKOWSKI;68 TAKES THE NEXT STEP TO BECOMING AN
INTERNATIONAL GALLERY ON THE INTERSECTION OF CULTURES.
Ruttkowski;68 Gallery| Rue Charlot 8 | 75003 Paris, France
---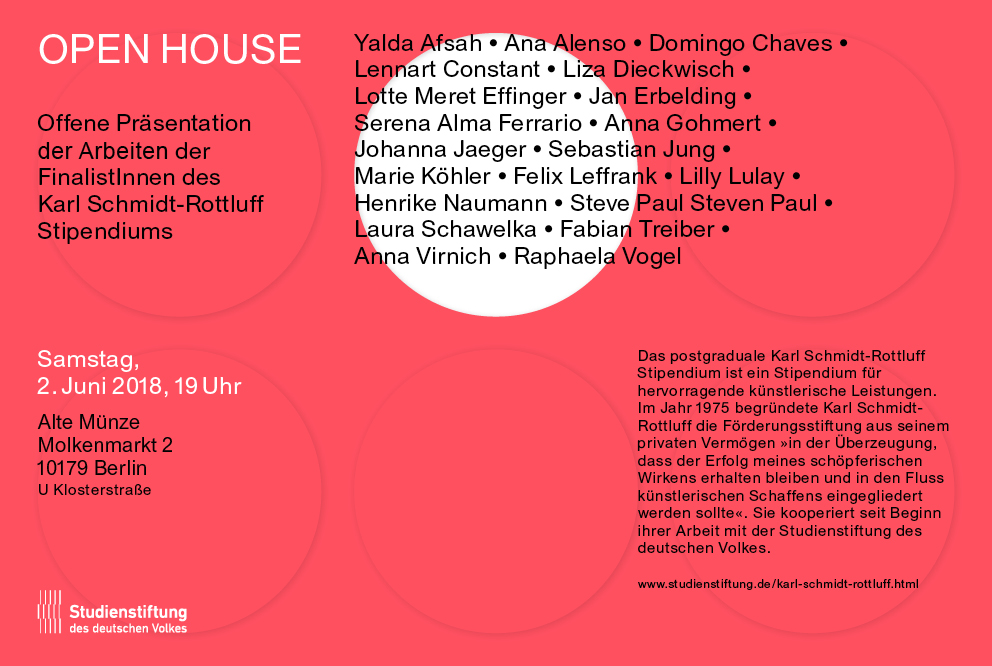 Karl Schmidt-Rottluff Stipendium – OPEN HOUSE
02. June – 19 hrs (single day presentation)
Presentation of the KSR finalists, Berlin (DE)
"Das Stipendium wird alle zwei Jahre für hervorragende künstlerische Leistungen an bildende Künstlerinnen und Künstler vergeben. Begründet wurde es im Jahr 1975 durch Karl Schmidt-Rottluff, der sein privates Vermögen in die Karl Schmidt-Rottluff Förderungsstiftung einbrachte. Sie kooperiert seit Beginn ihrer Arbeit mit der Studienstiftung. Seit 2007 ist auch die Marianne Ingenwerth-Stiftung im Stifterverband für die deutsche Wissenschaft Kooperationspartner und unterstützt das Stipendium finanziell."
www.studienstiftung.de/karl-schmidt-rottluff
Alte Münze Berlin | Molkenmarkt 2 | 10179 Berlin, Germany | U Klosterstrasse
---
---
Upcoming:
---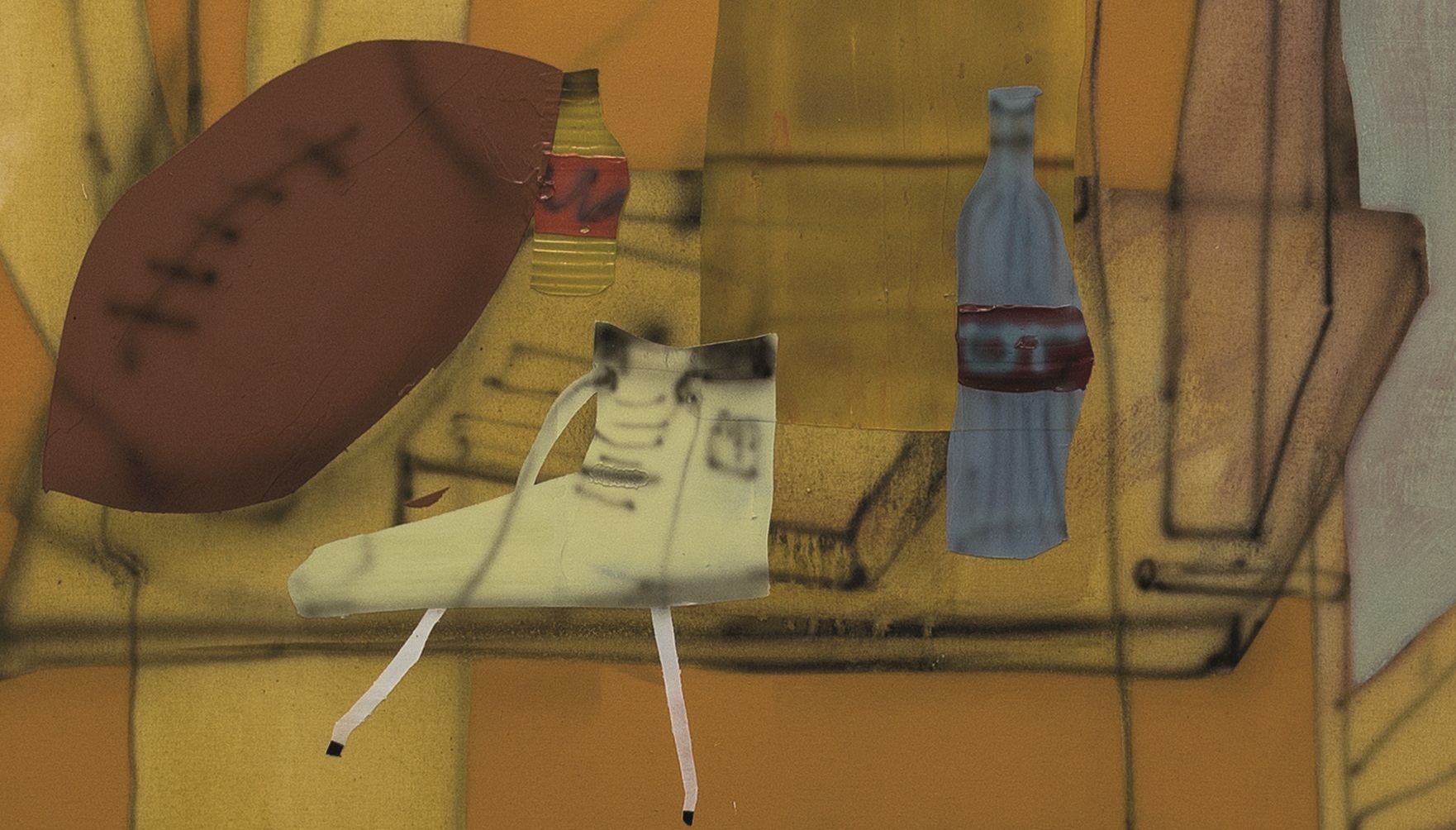 Fabian Treiber: Candle, Candle
21. October – 18. November 2018 
Soloshow at KV Sebastianskapelle e.V., Ulm (DE)
Opening: 21. October – 11 hrs
www.galerie-sebastianskapelle.de
Sebastianskapelle | Hahnengasse 25 | 89073 Ulm, Germany
---