currently active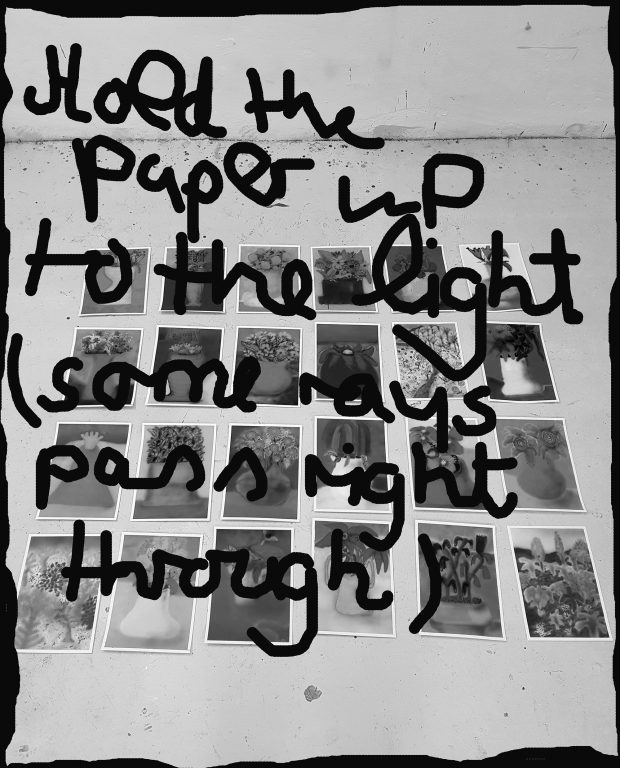 hold the paper up to the light
(some rays pass right trough)
22. June – 04. August 2018
Groupshow at Galerie Tristan Lorenz, Frankfurt a.M. (DE)
Opening: 22. June – 19 hrs
Works on paper
Artists:
Cigdem Aky 
Peer Boehm
Jan Gemeinhardt
Christofer Kochs
Klaus Schiffermüller
Fabian Treiber
Galerie Tristan Lorenz | Fahrgasse 17 | 60311 Frankfurt am Main, Germany
---

On the Home Front
1. June 2018 –  1. July 2018
Groupshow at Gallery KANT, Copenhagen (DK)
Artists:
Fabian Treiber (DE)
Emily Gernild (DK)
Karoliina Hellberg (FIN)
Tom Howse (UK)
"How are things on the home front ?"
With the exhibition title  "On the Home Front", one can quickly narrate a linguistic universe of metaphors;  boarders, war terms, weather forecasts and architectural definitions. The Great Frontier, the Western Front, the Eastern Front, a cold front, the front room or facade. 
Embedded in our private "home front" are both cultural images and language heritage with a multitude of fictional and factual ideals about the home as a place understood through emotions and memories. The home as phenomena traditionally and ideally symbolises harmony, security, family life and collective identity.  We believe it's essential for our well being to have a place called home, somewhere we belong to, somewhere which we recognise as defining our character.   
"On the Home Front" presents new works by 4 international young painters each giving their current angle to the homely.  Although interpretations and motivations vary in each individual practice the sensual and figurative is evident in both form and content. We find interiors which meet exteriors, anthropomorphic bean trees swaying in gusty winds, rooms that open into new rooms and mirrors that reflect yet another room, vases, plants and furniture, all a part of the domestic and the well known…that which we call home… 
KANT Galleri | Store Kongensgade 3 (Baghuset) | 1264 Copenhagen, Denmark
---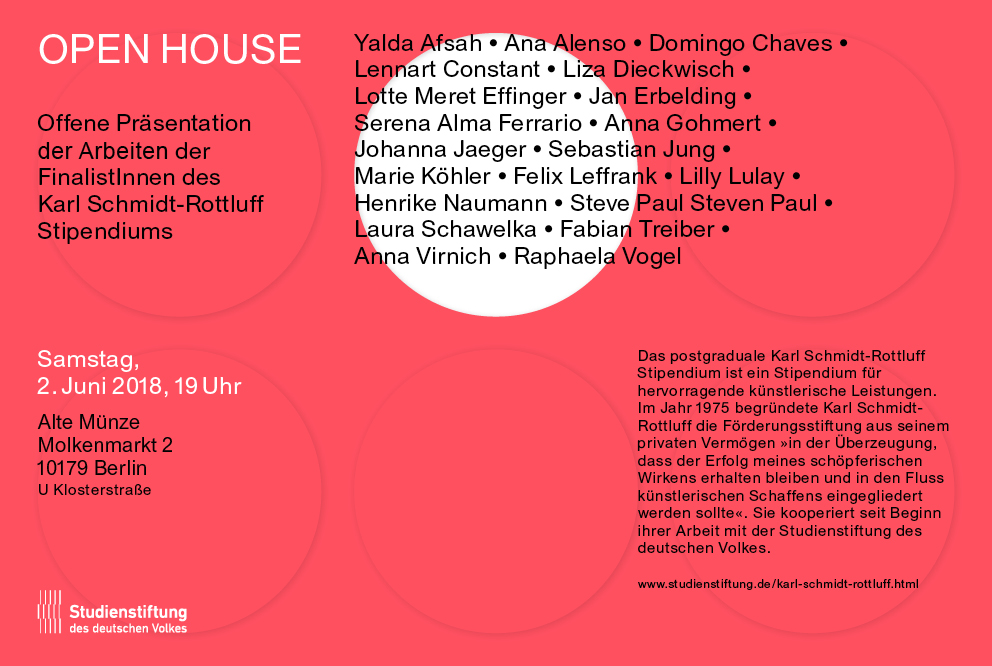 Karl Schmidt-Rottluff Stipendium – OPEN HOUSE
02. June – 19 hrs (single day presentation)
Presentation of the KSR finalists, Berlin (DE)
"Das Stipendium wird alle zwei Jahre für hervorragende künstlerische Leistungen an bildende Künstlerinnen und Künstler vergeben. Begründet wurde es im Jahr 1975 durch Karl Schmidt-Rottluff, der sein privates Vermögen in die Karl Schmidt-Rottluff Förderungsstiftung einbrachte. Sie kooperiert seit Beginn ihrer Arbeit mit der Studienstiftung. Seit 2007 ist auch die Marianne Ingenwerth-Stiftung im Stifterverband für die deutsche Wissenschaft Kooperationspartner und unterstützt das Stipendium finanziell."
www.studienstiftung.de/karl-schmidt-rottluff
Alte Münze Berlin | Molkenmarkt 2 | 10179 Berlin, Germany | U Klosterstrasse
---


Ciao!
01. June – 17. July 2018
Groupshow at STRIZZI.Ausstellungsraum für Brauchbarkeit, Cologne (DE)
Opening: 01. June – 19 hrs
STRIZZI.Ausstellungsraum für Brauchbarkeit | Trimbornstr. 7 | 51105 Cologne, Germany
---

Emergencias del acontecimiento
05. april 2018 – 05. may 2018
Espacio [Es]positivo (ES)
alongside:
Amaya Hernández
Miriam Fernández Lara
'This show is about memory, specifically related with time and space.
About distorted images that for some reason still persists in your head,
simple objects reviving feelings, the travel of the sunlight through a
window (do we still remember how to stay quiet observing it?), a gaze,
something subtle, an horizon, the multiple facts that make this moment,
the only moment. But, how could be something so liquid as time, be
represented?'
Calle Palafox 5 | Metro Bilbao | Madrid, Spain
---
---
Upcoming:
---


THE ART OF LIVING
28. July – 08. September 2018
Groupshow at ARTS PROJECT AUSTRALIA, Melbourne (AUS)
Opening: 28. July – 3 – 5 pm
ARTS PROJECT AUSTRALIA | 24 High St Northcote | VIC 3070 Melbourne, Australia
---